Sixty-Sixth Annual National Drifters Convention
The National Drifters, Incorporated
Sixty-Sixth Annual National Convention
July 27 – 31, 2022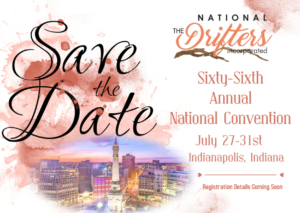 The National Drifters, Inc., is pleased to announce that we will host our Annual National Convention July 27 – 31, 2022, hosted by the Indianapolis, Chapter. The Indianapolis Chapter is working tirelessly to coordinate a convention that will provide us with an over-the-top midwestern experience.
Stay tuned for more details about the event and registration.
Share This Story, Choose Your Platform!